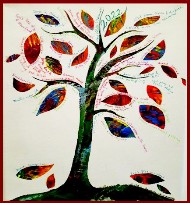 The Story Tree is an adult storytelling circle for Leicester and Leicestershire. Everyone 16 years or over will be made very welcome, it's free to come along and you don't need to book. We aim to offer a safe space to tell stories or just to listen. No one will ever be put under any pressure to tell (listeners are just as important as tellers) but, whether you are an experienced storyteller or it's something you would like to try for the first time, we can promise you a safe a supportive space to have a go.
What can I expect from a Story Tree evening?
Oral storytelling is older than any written history or literature and exists in every culture around the world. You might say that telling stories is one of the things that makes us human. Our group will focus on oral storytelling, these might be traditional tales, personal stories or something you've written yourself, but it is about taking part in the age old oral tradition and not reading from the page. Whilst stories may contain poems and rhymes, this is also not an open mic poetry forum. So what you can expect is to hear great stories from experienced tellers and new tellers and an opportunity, if you want it, to tell yourself.
There will also be great conversation, friendship, a cup of tea and a biscuit. If you'd like an alcoholic drink you are welcome to bring your own.
An approximate running order for the evening will be:
Arrival at 6.45 for a 7pm start
7-7.45 stories
7.45-8.00 refreshments
8.00-8.45 stories
What if I want to tell a story but don't know one to tell?
Don't worry, this is a group of enthusiasts and we can point you towards a range of stories to suit all styles of telling. Also, we're meeting in a library and the Leicester library service will make available a range of books featuring folktales, fairy-tales, myths, legends and other material that lends itself to oral storytelling. Books will be available for reference and to borrow on the night but you will need to take your chosen material away and familiarise yourself, we won't be reading anything straight from the page.
How long will the stories be?
If y
ou turn up on the night to tell a story, we ask that you keep it to around 10 minutes and that will be the approximate length of most of the stories you hear. Experienced storytellers may tell longer stories by prior arrangement and if we present a guest storyteller, they may also have longer tales to tell.
OK, I'm keen but still nervous, who can I talk to?
You can contact Matthew Vaughan on 07710148623, he'll be very happy to hear from you and answer any other questions you have.